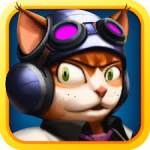 Months after their bullet hell Shogun: Rise Of The Renegade, int13 is back in town with a new production published by famous mobile game specialist Bulkypix.
Available for smartphones and tablets (iOS and Android), ArDefender 2 is a multiplayer Tower Defense game with Augmented Reality (that's the « AR » of the title) capability.
You can play either in solo or co-op mode, up to 4 players (via Wi-Fi), choosing six specialized heroes (each with their own skills) to help you to defend your position.
How does the AR work?

The game uses marker visual printed on paper (you can draw it too) called « AR tag » and the camera tracks the symbols to hold the whole game steady in your real-life environment.
This is the best Augmented Reality that you will find in a video game. Full stop.
Not your grandma's tower defense
ArDefender 2 is not that only a tech demo that works wonders, above all, it is a very well balanced gameplay.
In AR mode, the way to play is quite challenging too, because when you decide to pilot a turret, you have to directly aim the enemies (by moving your device), collect the coins, upgrade your weapons and so on.
You can clearly see that the developers have worked hard on every detail of the game.
On iPad (Retina display), it does look freaking good!
On a side note, if you don't give a damn for the AR or you are afraid it drains the battery, you just need to turn the option off since the game provides several backgrounds too.
Oh, and the icing on the cake, AR Defender 2 is FREE with in-app purchases (to unlock contents but fully playable without).