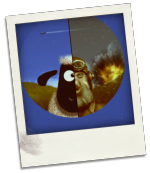 Black Sheep Squadron is an old PC/MAC project that had been shelved because of a lack of time and motivation and unfortunately it will (probably) never be completed.
The game is a vertical shoot-them-up, tribute to all the 1942-series (Capcom) including five 'oldschool' worlds in the glory of the 80's: Pacific coast, Jungle, Country/Desert, Warp Zone/twilight zone and Sci-Fi.



You play either « John Trigger » or « Susie Goodspeed« . Choosing one or the other character changes the power of the weapons and the velocity of the aircraft, the famous WWII corsair F4U.
There are still a lot of sprites and backgrounds that are not shown in the video. The footage is sometimes buggy but it gives a good idea of what the game would have looked once tweaked and polished.
Side note-developed with the PTK game engine and in-house level & spline editors especially done for the game. All the musics done by Cyril Pereira and available right here.