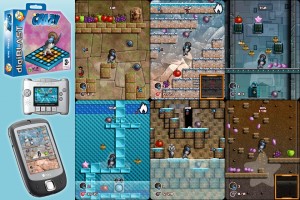 Handcrafted by Naaty Design, Crazy Jack is a retro platform game released back in 2005 for Windows Mobile Pocket PC.
Also a special version has been done for digiBLAST from toy makers Nikko.
Gameplay is quite simple, not to say oldschoolish , you need to jump & collect (defuse) bombs before they blow up, avoiding enemies, picks, water, etc. and let's make the most of bonuses!



As you can read below, the screenplay is very original! :]
Baby Jack was born with a gift.
He was (and still is) the pride of his parents.
His gift was being the first genetically modified disco child! This put a little touch of groove into his every move and mind.
Everybody knew him as Groovy Jack.
But as always, being a little different brings its share of jealousy and Jack felt more and more negative vibes around him and became Crazy Jack, ready to kick some ass.
Don't forget to put on your dancing shoes: disco fever is coming.
REVIEWS:
Mtekk (english) 9.9/10 – One of the delightful aspects of this game is the excellent 80's disco soundtrack; combined with superb graphics, the sound helps makes playing the game highly entertaining and great fun as Jack grooves and moves his way around the screen – John Travolta, eat your heart out!
PocketPCLouisville (english) – Crazy Jack is an addicting new game. It has some great music and the graphics are very bright and colorful.
PcDemano (spanish) 9/10 – El movimiento es bastante fluido para un PDA como mi ya vetusto Axim X5 y no se aprecian fallos graves (los sprites no parpadean ni nada por el estilo). Además los gráficos tienen un estilo caricaturesco que va muy a tono con el ambiente general del juego.
x50v.it (italian) – Divertente, Alta giocabilità, Bella grafica, Facile da apprendere.
Games-art (english) – Some of the effects, such as the trail he leaves when jumping and the particles that comprise the teleports look really nice. Overall the game is very esthetically pleasing.
Computer Shopper (english) 5/5 – Progressing through the levels isn't easy, but the tongue-in-cheek Saturday Night Fever-style dancing moose adds plenty of comedy to the mix to keep you coming back.
Palmtop User (english) – As proof positive that there's life left in the platform game genre, Crazy Jack combines well balanced gameplay with absolutely stunning sound and visuals…
It's hard to think of any platform game that's been done better on a PDA – and that's just about the highest recommendation we can give!
PocketPT (portuguese) 8/10 O Crazy Jack é um jogo bastante divertido e muito bem conseguido, aliando uma excelente jogabilidade a uns óptimos gráficos.
Crazy Jack afirma-se como um excelente jogo de plataformas a um bom preço