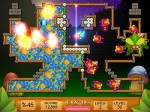 Pixie is a new casual game for both PC and MAC platforms developed by Phelios and EMV Software (remember Warblade?).
Story begins when the fairy Pixie loses her way in a magical forest one day and needs your guidance to return home.



The main idea (gameplay) is based on the classic arcade game Qix where you need to close of areas until you fill at least 85% of the playfield.
Powered by the PTK game engine, the game has very nice colourful graphics by Paul Conway and well fitted music & sound effects by William Lamy.
A demo is available for download and the full version features 100 levels, big bosses, many bonuses to collect, Online Hall-Of-Fame and money to spend in a magical boutique.