The first flyer was originally an excuse for testing a couple of custom brushes done by Chad Essley especially for TVPaint Animation.
Starting from the shape of Yan Harris which stands for the 'i' in the original logo, everything was done with an excess of splats, splashes, dots, drops & spray and then, tweaking the colours via blending modes.



About Yan Harris:
Born in 1968 in France and mix since 1985, Yan Harris becomes professional DJ when he's only 17 years old and radio producer when he's only 18 years old. DJ & radio producer with its own production company since 1989 for 300+ radios stations & 25+ TV channels in the world (commercials TV/radios & networks).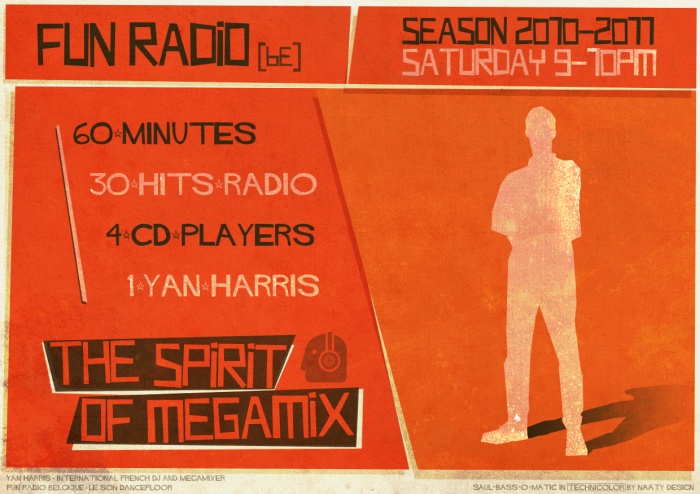 The second flyer is a tribute to graphic designer Saul Bass, directly inspired by his movie posters.
who is Saul Bass?
You may not know his name but you have probably already met his work through logos (United Airlines, Minolta,…), movie posters (Vertigo, West Side Story,…) or title sequences (Anatomy of a Murder, Psycho,…).
In 2002, French artists Kuntzel + Deygas have created one of the best homage ever made with the opening title of Steven Spielberg's Catch Me If You Can, the whole footage is viewable on « Art of the Title » (highly recommended website!).


About TVPaint:
Developed in France, TVP Animation is the leading paperless drawing and animation tool, able to imitate traditional techniques such as Pen Brush, Gouache, Watercolour, Pencil, Felt-tip and Airbrush, and animate them over frames.
Using only TVP Animation, you can create an animated movie from start to finish, including storyboarding and all the steps (rough, clean-up, keyframes and in-betweening) through to final compositing.
Their latest technology, TVP Animation 9.5 is now available for Windows XP, Windows Vista, Windows 7 and Mac OSX (Tiger, Leopard and Snow Leopard) !