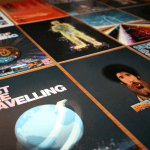 Yay! A set of MOO postcards from a bunch of flyers (including Brad Mitchum's smartphone game and Yan Harris) have been delivered!
Such as their other products, both thickness of the paper and printing quality are good indeed and have a gloss laminate with a size of 105mm x 146mm.



The postcards are now double-sided, that means you can either use the templates provided, or upload your own design to the back, that's a huge improvement.
The package is a white, unbranded box, perfect if you are selling the postcards or printing them for clients, you can even slide your business card (or minicard) into special slots.
Note about the MOO customer service : even if the first batch did match the quality, each card got a small white dot on the very same spot (probably machine marks), an e-mail later, they reprinted the order (the next day), free of charge.
Mootastic! :]
——
If you have never tried MOO before, get free standard shipping on your entire first order :
Just enter the code Q8S5KW at the checkout!