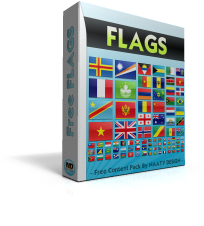 Naaty Design is proud to announce the release of its first collection of Royalty Free content packs (also called stock art or game packs) that contains ready-to use items for your productions, used as placeholder graphics to prototype your games, ideas and mockups, etc.
Good news, the first content packs are 100% free for both commercial and personal projects (website, advertising and promotional material,.. ), featuring:
10 shapes X 10 colours = 100 badges!
246 countries X 5 sizes = 1230 icons!
Forthcoming content packs: casual and board games!