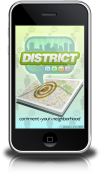 Naaty Design is proud to be part of the first iPhone / iPodTouch application of french developer Bertrand Boudaud.
So, what is District News about?
Stay tuned about your district or the district you visit and the good stuffs around! District News tells you about your neighborhood comments and local news, considering your current location.
Participate and let your neighborhood know about what you think about the best shops, restaurants, bar, events around you, or just express your mood!
No login is required, everybody can post comment without heavy id checks!
The application is simple, light and fast, showing 2 views: a list view, showing messages sorted by date and a map view.
This social networking application is free and available on the App Store.